Maine Snowmobile Lodging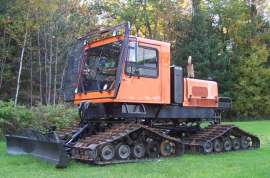 Shown Above: Tucker Sno-Cat Model 2000C-28-6 - SOLD
Please visit our friends and their great places to stay and ride!
Snowmobiling at "New England Outdoor Center"
Located on ITS-86 near the base of Mt. Katahdin and the famous Katahdin Loop.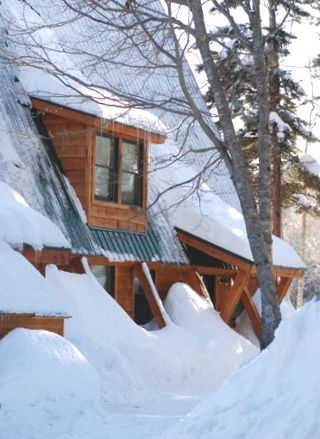 New England Outdoor Center has been catering to outdoor recreation lovers for 27 years. Their Twin Pines Camps Cabins and Guest Houses are fully equipped and located on Millinocket Lake overlooking Mt. Katahdin and are located on ITS-86.
The modern trailside cabins and guest houses have all the amenities of home and can sleep 4 to 14 people depending on the unit you choose. All cabins have baseboard heat, full kitchens and bathrooms, all bedding and towels, microwave, coffee maker. Community hot tub, game and recreation room on-site.
NEOC has the largest fleet of Ski-doo snowmobile rentals in Maine. Don't miss their famous River Drivers Restaurant, located just 14 miles from Twin Pines in Millinocket.
NEOC's Twin Pines Snowmobile Club operates 5 high-powered BR 400 groomers out of Twin Pines to assure you the best groomed riding right out your cabin door.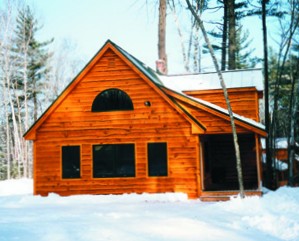 Gas is available on site from 7am to 7pm every day. Trailside lunch is offered Thursday to Sunday, from 11 am to 2 pm.
New England Outdoor Center
1221 Medway Road
Millinocket Lake
Millinocket, ME 04462
(800) 766-7238
More Snowmobile Lodging Info
Snowmobiling at Luxurious "5 Lakes Lodge"
Located on the famous Katahdin Loop at the home of Jo Mary Riders Snowmobile Club on South Twin Lake outside Millinocket.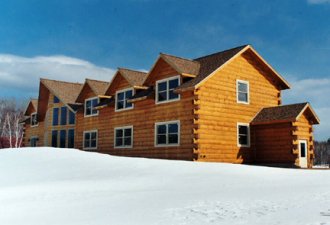 Snowmobile on what might truly be the best groomed trails in Maine. With the Jo Mary Riders Bombardiers right on site, the trails pass the Lodge and you get right into the swing on the huge network of road based trails through the Katahdin region. No need to wind your way through any in-town trails.
5 Lakes Lodge bed and breakfast inn is nestled on the shores of South Twin Lake, six miles west of Millinocket. The Lodge is a rustic yet elegant bed and breakfast inn built in the traditional Maine sporting lodge style, this modern log B & B features five luxurious rooms, all with commanding views of the lake, majestic Mt. Katahdin and numerous lesser peaks within Baxter State Park.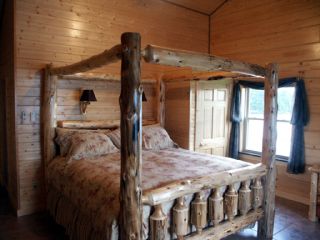 Start the day with a delicious full breakfast, then just step off the Lodge's porch and hop onto your sled for a fantastic day. When you're done riding for the day you'll love your own private jacuzzi tub and the super comfortable king size log frame bed.
Gas is available on site.
5 Lakes Lodge
HC 74 Box 544
South Twin Lake
Millinocket, ME 04462
(207) 723-5045
More Snowmobile Lodging Info
Snowmobiling at "Mount Chase Lodge"
Just off ITS 85 in a quiet wooded setting on the shore of Upper Shin Pond.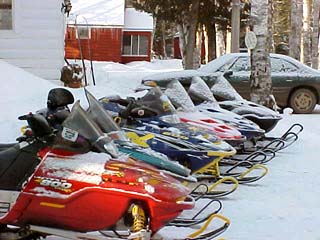 Our comfortable lodge and private cabins offer excellent accommodations. Full bathrooms, automatic heat and electricity, and cooking equipment for those who prefer.
The main Lodge offers large private rooms with comfortable beds, and an impressive lounging and dining area overlooking the lake. Home cooked family style meals are our specialty among with great Northern hospitality. Homemade breads, pies, muffins and other treats are served in the finest tradition. No one goes away from our table hungry!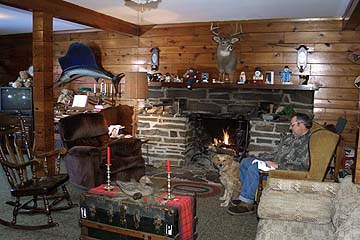 There are also five Cabins sleeping 2-8 people. All are equipped with full baths, automatic heat as well as wood stoves in some, and equipment for cooking, as some guests prefer. Cabin guests may also have their meals served in the Lodge.
Arctic Cat sled rentals are available next door.
Mt Chase Lodge
1517 Shin Pond Road
Mt Chase, ME 04765
(207) 528 - 2183
More Info
Advertise your Snowmobiling Lodge Here
We accept a limited number of advertisers who want qualified website visitors, and a highly targeted thematic link which is invaluable in boosting your own website's position on Search Engine Results Pages.
Please contact us only if you are a quality facility focused on snowmobiling, and want honest to gosh snowmobilers to visit your website.
Snowmobile Trail Groomers
P.O. Box 459
Hanpden, ME 04444
(207) 337-5858

Maine Snowmobile Lodging by Town & ITS
Millinocket - 5 Lakes Lodge. Located on South Twin Lake and the Katahdin Loop Trail.
Millinocket - New England Outdoor Center. Located on Millinocket Lake and the ITS-86 / Katahdin Loop Trail.
Mount Chase - Mount Chase Lodge. Located on Upper Shin Pond just off ITS 85.
Shin Pond - Mount Chase Lodge. Located on Upper Shin Pond just off ITS 85.
Snowmobile Trail Groomer Information & Photos
Trail Groomer Exterior Photos Trail Groomer Interior Photos Trail Groomer Engine Photos Trail Groomer Specifications
Listings of Snowmobile Trail Grooming Equipment and Consulting Services
Free Listing Offer
Free equipment listing for Maine snowmobile clubs. Call or email us for details.
Maine Snowmobiling Information
Maine Snowmobile Clubs Maine Snowmobile Trails Maine Snowmobile Dealers Maine Snowmobile Rentals
Snowmobile Trail Grooming Reports Snowmobile Trail Alerts Snowmobile Event Calendar
Maine Snowmobile Lodging Maine Snowmobile Rules
Storm Center Alert - Bangor, Maine
January 1, 2014 - 19 Below Zero today at the airport.
December 30, 2013 - 11:00 AM
Bangor - about 9-10 inches new snow on top of the recent 4-5 inches. Maybe 18-20 inches on the ground.
Millinocket & JoMary Area - over 2 feet of snow on the ground.
Regional Snowmobiling Information
New Hampshire Snowmobile Clubs Vermont Snowmobile Clubs Massachusetts Snowmobile Clubs
New York Snowmobile Clubs Northeast Snowmobile Dealers
May 30, 2009: 1997 Tucker Sno-Cat SOLD!
Return to Snowmobile Trail Groomers Home Page
Contact us for further info or to make an appointment for viewing:
Maine Snowmobile Trail Groomers
E-mail: info@snowmobiletrailgroomers.com
Telephone: (207) 337-5858
Copyright 2004-2017 All Rights Reserved - John Rust Consulting
Website Marketing Consultants
Updated January 2, 2017