Snowmobile Trail Groomer Details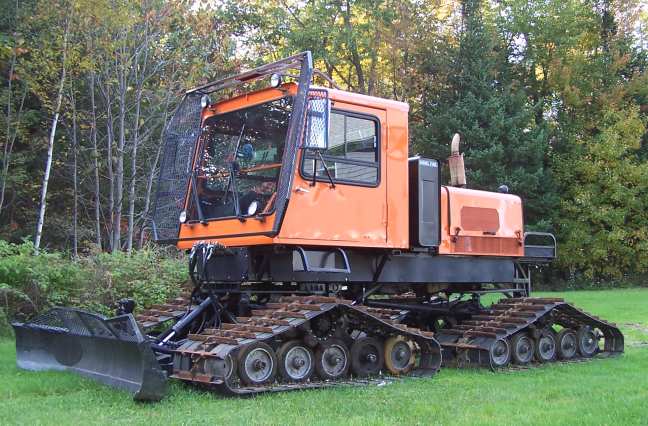 Tucker Sno-Cat Model 2000C-28-6
Special features as quoted from Tucker:
Four Tracks - "Tucker Sno-CatŪ track system presents four tracks that are independently sprung and pivoted at the drive axle. These tracks are capable of tilting up or down to provide an inclined ramp for climbing over obstacles or spanning uneven terrain. The drive axle and spring system is trunion mounted on the Sno-CatŪ vehicle to accommodate uneven terrain in the transverse plane. The suspension system allows the vehicle to traverse rough terrain with minimum cab shock."

Fully Articulated Axles with Power Steering - "Vehicle is hydraulically steered by pivoting both the front and rear axles. This provides for smooth movement over the terrain with minimum disturbance of the ground cover."

Easy Maintenance - "Ready accessibility to all areas of the Tucker Sno-CatŪ vehicle provides for ease of maintenance. Standard automotive axles and common hydraulic and mechanical components require no extraordinary mechanical skills to service and present the added advantage of good parts availability."
Standard Equipment:
Note - This is Tucker's 2004 info. May differ slightly on the 1995 Model - items in bold have been confirmed as of 10/12/04.
2-Man Insulated Cab
Full Engine Instruments
Front Bucket Seats
Full Complement of Seat Belts
Cab Heater - 36,000 B.T.U.
Front Defrost w/Adjust Outlets
Cab Entry Steps
Locking Door Handles
Personnel Assist Handles
Roll Over Protective Device
Dual Windshield Wiper System
Tinted Glass
Dual Sealed Beam Backup Light
Dome Light
Dual Electric Horns
Heated Mirrors
Hydraulic Foot Brake
Mechanical Parking Brake
Brake and Tail Lights
Backup Alarm
Hydraulic Steering
Steering Wheel H.D.
Fuel Filter
Coolant Recovery System
Engine Block Heater
Transmission Pan Heater
Battery - Dual 950 CCR
Cold Start Aid
Rear Pintle Hitch
Color: Grey Chassis, Orange Cab
80 Gallon Fuel Tank
Fire Extinguisher
Manual and Special Tools
Rotating Beacon
Cigarette Lighter
High idle switch
Cab Fan
Special Features of the Tucker Sno-Cat Trail Groomer for Sale
Equipment Details:
Model 2000C-28-6 2-Passenger Tucker Sno-Cat
Year - 1995
Serial Number - 20954118
Engine - Cummins 6-BT 152 Hp s/n 44936516
Hour Meter - Presently 2510 Hours
GVW - 10,245 lb.
Dry Weight - 8,345 lb.
Max Load - 1,900 lb.
Implement Weight - 700 lb.
Track Width - 28 1/2 inches each
Axle - Spicer 70 2779-182
Alternator - Cummins 3909982, 105 Amp
Block Heater - Cummins 8601755
Brake Master Cylinder - Wagner F32839
Brake Caliper - Wagner 98886
Hydraulic Pump - Vickers V20P-1P11T-38C4H11
Additional Equipment:
Triple Rear Hydraulics
Trail-Boss Seats
Tucker 8 foot, 6-Way Blade
4 Speed Automatic Transmission
AM/FM Stereo Cassette Player
80 Gallon Fuel Tank
Snowmobile Trail Groomer Information & Photos
Trail Groomer Exterior Photos Trail Groomer Interior Photos Trail Groomer Engine Photos Trail Groomer Specifications
Listings of Snowmobile Trail Grooming Equipment and Consulting Services
Free Listing Offer
Free equipment listing for Maine snowmobile clubs. Call or email us for details.
Maine Snowmobiling Information
Maine Snowmobile Clubs Maine Snowmobile Trails Maine Snowmobile Dealers Maine Snowmobile Rentals
Snowmobile Trail Grooming Reports Snowmobile Trail Alerts Snowmobile Event Calendar
Maine Snowmobile Lodging Maine Snowmobile Rules
Storm Center Alert - Bangor, Maine
January 1, 2014 - 19 Below Zero today at the airport.
December 30, 2013 - 11:00 AM
Bangor - about 9-10 inches new snow on top of the recent 4-5 inches. Maybe 18-20 inches on the ground.
Millinocket & JoMary Area - over 2 feet of snow on the ground.
Regional Snowmobiling Information
New Hampshire Snowmobile Clubs Vermont Snowmobile Clubs Massachusetts Snowmobile Clubs
New York Snowmobile Clubs Northeast Snowmobile Dealers
May 30, 2009: 1997 Tucker Sno-Cat SOLD!
Return to Snowmobile Trail Groomers Home Page
Contact us for further info or to make an appointment for viewing:
Maine Snowmobile Trail Groomers
E-mail: info@snowmobiletrailgroomers.com
Telephone: (207) 337-5858
Copyright 2004-2017 All Rights Reserved - John Rust Consulting
Website Marketing Consultants
Updated January 2, 2017